Performance, Poetry, photography exhibition
yimei wang
Solo Exhibition: A person's opening ceremony
Place: Shangyuan Museum of contemporary art, Exhibition hall, Beijing, China 
Portal to a world behind the art works
The power to create, destroy and be reborn
Exhibition of One (Yi) written on 1.09.2019
Yimei Wang, like a mountain, stands without standing, observes without watching, touches upon the palpable but invisible testaments of our times. Our flux, the reality of changes under the influence of so many ideas, constructs, constrains but at the same time freedom Yimei Wang's photography pieces and her performances are inseparable part of the whole, through playful but deeply meaningful interaction between now and then, alive and dead she encompasses the ends of both spectrum The atmosphere and the depth of communication between objects and Yimei as a channel, allude in a way to "A thing in itself" from a Kantian philosophy. There is a great distance and respect towards everything that surrounds her, she is giving the autonomy Of life to objects,Ranging from a chair to a window, to a mountain of the world behind each frame, behind each poem.
Yimei Wang constructs and then tears apart just because she can! Her Oneness allows it, as it transports us to the atmosphere of the rarified air all mountain peaks possess, or maybe the air possesses all the mountain peaks, it is a question of interaction of Realities Yimei constantly poses. At one end of the spectrum she freezes in time the moments that are condensed with meanings in her photography, at other times she makes the inanimate alive, unfreezes the static nature of objects by interacting with and reading poetry to them. The appearance and disappearance chase each other in the eternal game of life, our quest to understand the relations between things that surround us are carefully bound in the interdisciplinary nature of her work.
A sense of solitude but not loneliness is emphasized in her photography pieces in this exhibition, communicating a wide range of subjects and commenting upon the society, nature and our planet, ancient sites, contemporary life always in haste of finding the purposeful moment, while she Carry a cross through those moments in different poses and circumstances of life.
Objects are not there to just serve, they are alive in their presence, that Yimei honors. She reads her poetry to them and then further freezes in time through her visual language in photography, finally to culminate the whole process with the performance art, which Again gets frozen in time with video recording. The nature of a circle and a cross permeate throughout her work both in thematic body and external execution.
A performance, a moment in time, a statement, carefully elaborated, towards the world that heavily emphasizeds on the impermanence of life, with use of highly symbolic elements, salt to purify (water), flowers and leaves (wood) to bring us back To nature that fluctuates all the time between living and dying, stones (earth) and candles (fire) to transform with the sound of the falling stones that give life to a vibration (sound) marking a beginning.  
The sense of religiosity prevails in her artwork which is one of the strongest testaments that her work questions and goes deeply into the sense of being, penetrating all the way to the layers of nothingness where the circle closes and the Phoenix can rise from the Ashes yet Again. 

Religiosity is meant here not in a sense of any of the religions but rather the feeling of awe upon entering the Sacred Place. 
Irina Ideas
Elements
About Yimei Wang
One, whose real name is Wang Yongmei, photographer, performance artist, poet. Associate Professor of Shanghai University of International Business and Economics, Visiting Scholar of the United Kingdom. "The relationship between hair and the world": a photography Shanghai exhibition and a poetry reading and seminar, 2016.4; Art Centro double exhibition in New York, USA, 2017.8; a poetry album "I need to take action before my sadness" by Published by China Federation of Literary and Art Circles, 2017.9; a poetry and behavioral speciality of Shanghai Pudong Library, 2018.4; ArtBank micro-exhibition many times, 2018; won the "China New Artists Resident Award" by Beijing Red Gate Gallery, 2018.6; Beijing Shangyuan Poetry Art Exhibition, 2018.8; Art Bund – Sino-French Contemporary Art Invitational Exhibition, 2019.1; Facing the Future: The First Qinhuangdao Contemporary International Art Singles Exhibition, 2019.4. Currently living in Shanghai.
Yimei, full name Wang Yimei
Photographer, performance artist and poet. Lives in Shanghai
2018 Received "the Emerging Chinese Artist Residency Award" of Red Gate Gallery, Beijing
2018 Shangyuan Art Museum Women Poets' Art Exhibition, Beijing
2018 Yimei Poetry Reading & Performance in Pudong Library, Shanghai
2018 ArtBank Online Exhibitions
2018 "Her Vision" exhibition, NL Art Museum, Beijing
2017 Yimei's Poetry book with photographs I Need to Take Action before I Feel Blue published by China Literary Federation Press, Beijing
2017 Ten Artists' Exhibition "We Are Here" in Mid-Hudson Heritage Center, NY
2017 Double Show in Art Centro, Poughkeepsie, NY
2016-17 "Pure China"– National Tour Art Exhibition
2016 Her works showroom in Shanghai Tower (the highest building in Asia) and on Bund18, Shanghai
2016 successfully held Link the World with Her Hair–Yimei 's Shanghai Solo Photography Exhibition along with Yimei Poetry Reading and Academic Seminar, Shanghai
Associate professor of Shanghai University of In't Business & Economics, visiting scholar of UK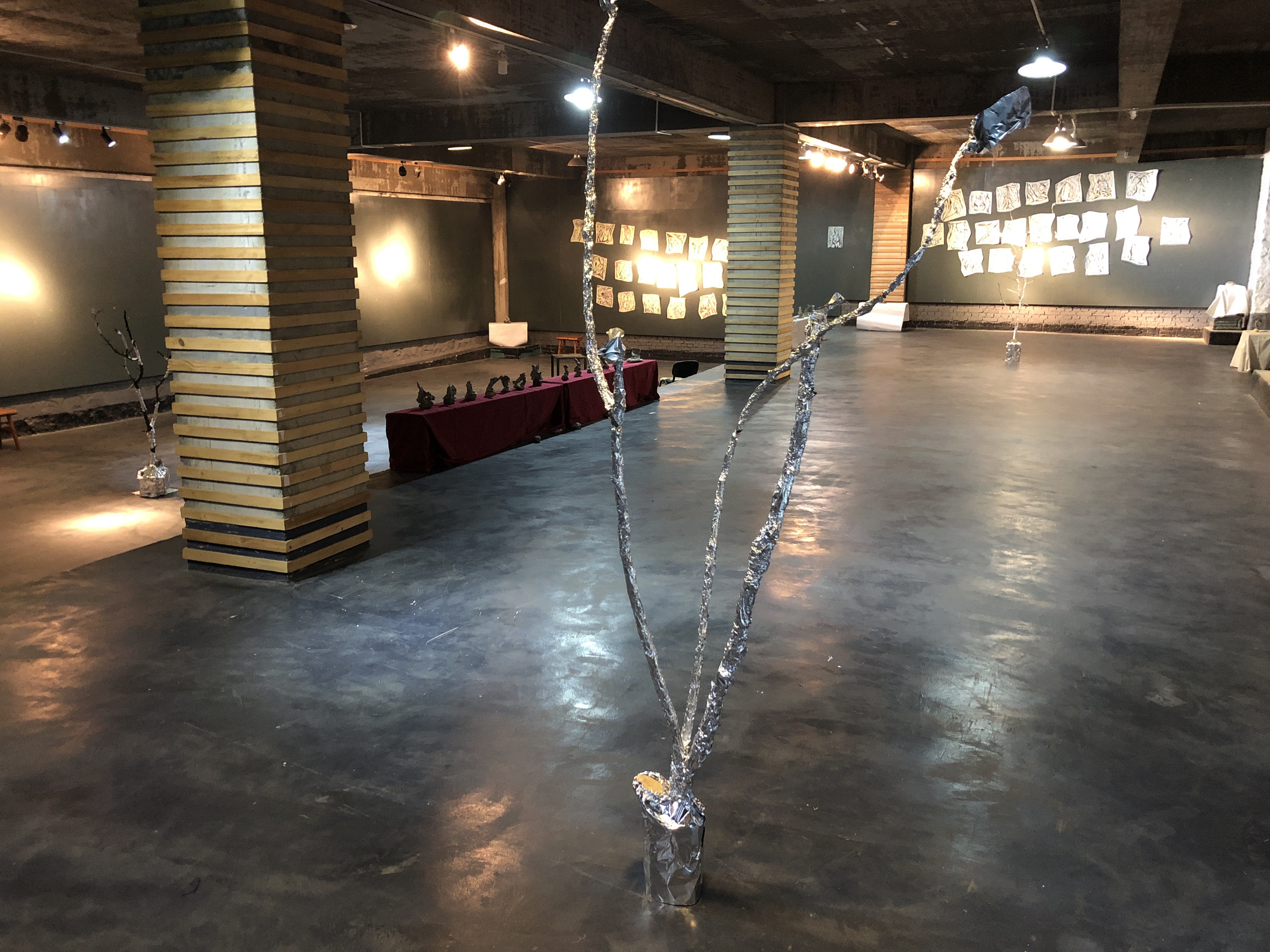 About the museum
Shangyuan Art Museum is a modern art museum in Beijing, China. A private museum, it was established in 2007. It hosts an International Residency
Thoughts after the opening performance & its exhibition
"It's late for plum blossoms to fall."
A verse is so simple and dull, it is dull enough to make people cry.
The performance art of a piece has always been the same as her verse, quiet, simple and dull.
One lying in any place in the world, any country, any kind of temperature, any kind of breath, she is a grain of dust, returning to the dusty position.
The earth is a humble body that can't be measured. In the vast world, a humble body feels the warmth and sharpness of streets, rivers, beaches, and rubble, in the form of falling asleep, confinement, isolation, meditation, death, and nirvana. This is a kind of pilgrimage and redemption, to pity with one's humble, to realize, to sacrifice, to save another humble. Perhaps this is just an over-interpretation of the bystander, perhaps, just for a moment in life. The moment I lay down, I released myself and gained the freedom of the soul.
One also likes to read poetry.
One likes to read the poems to the earth, the void, a wall, a painting, and a tea. Perhaps, she does not need the other party to understand her poems, nor does she need the other party to understand her poetry, so that is actually the real poetry. Let the poems permeate the air and slowly dissipate.
One does not like to read poetry. If you encounter a poem, you can cover your ears and let her poems flow through the air around you.
Blue Jinghua
2019.9.2 Songzhuang
Exploring the work of artist Hilma af Klint, with all the mystical, occult, metaphysical that she has been tapping into, indirectly going deep into the art that would have later be defined as abstract art. She innovated without even being aware of it and was was the world, unaware.
This is a story, a personal impression rather, of a great artist Petar Lubarda with his roots in Montenegro, with trunk in former Yugoslavia's Belgrade and Paris and branches, leaves, fruits and flowers in the World. He reaches deep into the history and yet gives us something completely new, a way to look through the prism of the stone that becomes a bone that becomes a structure that becomes an architecture. An architecture of the cosmic journey that we all take on this planet becoming one with the stone that made us and at the same time we become appalled from time to time when we notice the glimpses of the core. We live in the world so dominated by the ruthless ruler called beauty that often times we live in the superficial layer that the underlying truth frightens us. We have learnt to ignore the depth to such a degree that we follow the footpath of positive psychology, from one landmark to another, to avoid abyss at any price, the abyss of the unknown that the subconscious mind knows.
Louise Bourgeois graced this planet with her presence spanning almost a century, during which she created a wide range of artistic pieces in different languages of materials and expression. She is one of the artists of 20th century who always came back to the psychology, self observation, getting back to the core, finding essence in the childhood memories and events.