Solo Exhibition
Shatrudhan K. Gupta
Place: Shangyuan Museum of contemporary art, Exhibition hall, Beijing, China
A journey to the unknown, towards ourselves, a self discovery always goes from one station to another, reflecting the stages of life and what we absorb and reflect upon, as we walk this spiritual path called life experience. Gupta's work comes from the utter peacefulness of the mind, echo of a distant memory from childhood, especially through repetitive almost hypnotizing process of cleaning that he witnessed and learnt to enjoy, inspiring the purification on the spiritual level, just like yoga teacher but without body, just the mind. This is a quest of transforming the mundane objects, embedding in them so much care and attention that they turn into the most wonderous activity. This collection of art pieces is a synopsis of what might seem at first a mundane activity, a collection of experiences that reach far into the rural, utterly peaceful India. However, describing something like this mundane is deceptive, because every activity has a grain of divine in it, the key is to learn/train our mind to see. Gupta's eye is seeing this very grain, focusing the sharp laser like vision into the sphere behind the visible world. Peaceful harmony is at the epicenter of this body of work, but at the same time it is the testament to our hectic world, that is always on some crossroads, from one station to another as we hurl to discover more. It is a slow and inspiring process of internalizing everything around including this very place of Shangyuan Art Museum. Many paintings are reflecting upon the corners and the elements of the buildings around, it is as if the buildings have a will of their own, they want to live through the inhabitants and they indeed do, because they are given a chance, a grain of divine that they hold is not ignored as just mundane.
Irina Ideas
Portal to a world behind the art works
Art pieces collection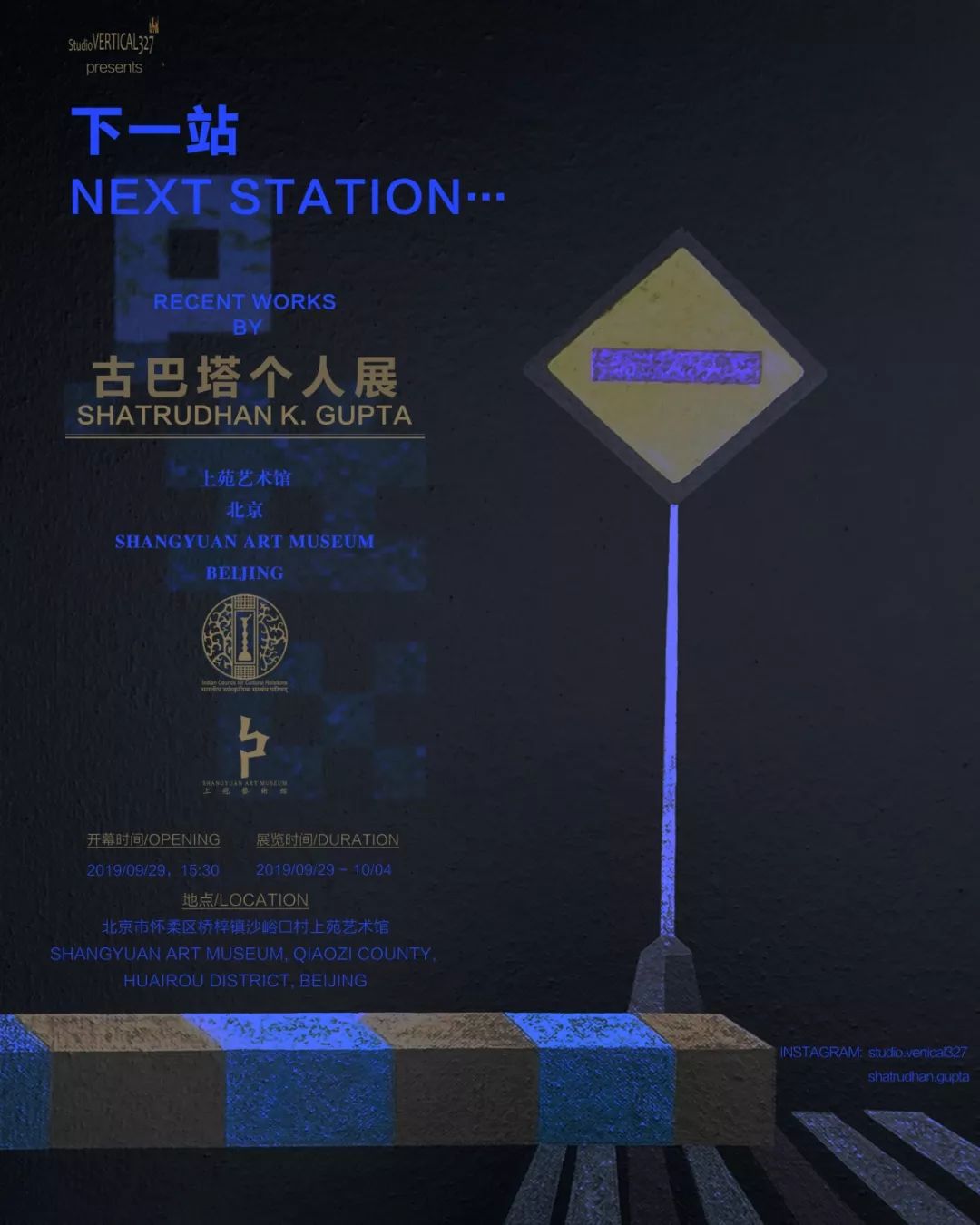 Next Station – Solo Exhibition of Shatrudhan K. Gupta 
Review by Irina Ideas
The first things that greets us as we enter this world of art is what surrounds us on the astral/stars system level, deeply rooted in the Chinese culture and history. The elements that used to determine the most important decisions made as the Dinasties were breathed in and out by the cause and effect and circumstances through history. This is called a Chinese Zodiac, and Gupta greeted us with what surrounds us this year and that is a year of a Pig.
The journey continues through gallery space into the series that reach deeply into the world of subconscious abysses and mountain ranges, inspired by the mountains Xianju in China that Gupta visited some time ago. He discovers the mirror within reflecting what he saw outside, but then we realize with awe something universal. Isn't it how it always works, we find the mirror in our subconscious infinity reflecting the things we want to understand and suddenly we find ourselves in this world that has it's own Sun, it's own atmosphere, it's own complexity. There are two sets in this collection one explicitly dealing with geometry and symmetry of the mind, because the intelligence always seeks patterns, leading us to some different conclusions about the reality. This reality is always reflected through the mirror within and Gupta presented this body of work in such a way that it is clear as to the realization of the statements that represent themselves through the reflections. The reflection is all encompassing so we see it on the side of the wall but also partly attached to the ceiling but majority is placed on the floor, to remind us that the deepest discovery of the mind requires us to look down, deep, within.
It is in this spirit that the progression of this idea goes into the series of internal mountains and shapes placed centrally on the board of the exhibition, presenting 60 pieces, with meticulous lines and densities at the same time with transparency almost as if a destiny itself is playing with the lines of possibilities. The collection is uniform in the overall, but the arrangement suggests a certain pattern with division in two, three and four. As the concept of a family is very strong in India and Gupta grew up in the ecosystem where nurturing and sharing is emphasized, alongside his brother, sisters and parents, the division of the worldly stimulus is probably measured according to this formula. It appears that the numbers play significant part in the composition of Gupta's artwork both externally and internally, as we often observe four chairs, 3 tables, 9 lines on the crossing ….. .
A black background, reflecting the deep peacefulness, invoking in us this feeling of a mysterious, something elusive, always present but at the same time disappearing, one can almost vividly imagine the refuge of a mind into itself, exploring and wondering at the world. Metallic acrylic that emerges out of this background is almost like a reflection of our lives, wanting more, emphasizing every moment lived, but at the same time making it static, like being frozen in time. Melancholy is something that wants to freeze the time, but because the nature of time is so ruthless, it is unable to conquer such a powerful opponent. In Gupta's collection of Acrylic on Canvas we almost sense this, the association with crossroads, the journey through life, but at the same time a slight sadness but only in appearance, once we look deeply into it, it transforms into a peacefulness.
Eternal stillness in the world that moves from one station to another, observing, memorizing, just like genetics memorizes everything, so does this collection towards the world around. Shangyuan museum seems to be obviously depicted in many of these paintings, but what is probably the most fascinating that Gupta was not aware at the time of painting these peaces is that they actually remind of the structures that he was surrounded with at the time. The atmosphere and spiritual powers of Shangyuan museum infiltrated his mind on the most subconscious level and emerged onto the canvas like a bird that hunts fish and comes out of the sea, unaware that her evolutionary specialty is fairly rare among birds. Jung, (psychologist) often designated his painting pieces as nature because he was able through active imagination to surface from the subconscious the most fantastic visions, and Gupta's journey into a self discovery through art echoes this concept.
The installation pieces marked and captured by a quadrant create the border of the space of their own, starting with the brush, slipper and a mask, through recycling of metallic elements (probably emerging from the paintings) to the construction of benches bound together by gravity and finally culminating in the selection of tools required for an artist, in the domain of traditional art, to be able to express him/herself. All of these signify a transformation of thought from a confine of a canvas/freedom from gravity to the freedom of the empty air, but confines of gravity. Searching for this perfect spot in the balance between purity through cleaning thoughts/environment and the world that is inevitably in the state of entropy.
Finally let's go back at the beginning where the circle of this exhibition stars and ends, but also for us flowing through this year of a Pig, it is the circle of seasons that makes us interpret time better. Symbolically depicting 6 and then 10 and then two times 9 rectangles or what I interpreted as months, as we are about to enter the 10th month of this year in our calendar. It is said that the origin of Chinese horoscope became because when Buddha was summoning the animals, the first to arrive was a Dragon, closely followed by a snake, then a horse, a goat,….and eventually the pig was the last one to join this journey and for this reason it is regarded as the one of luckiest, especially in terms of material gains as it got there just in time, and time as we all know, the power of time and how it transforms every single one of us.
Irina Ideas 2019.10.1
Bio
2016-18   
'高级学者研究项目' 中国美术学院 中国杭州
2009
视觉艺术硕士  艺术与工艺学院  勒克瑙大学 印度勒克瑙
个展
2019
'A MAN FROM LUCKNOW' 中国房客,AIXIU DESIGN ART SPACE, Hangzhou
'DREAMS OF DREAMER' 梦的印记,西卡艺术中心 杭州 supported by Consulate General of India Shanghai
2016
'乌托邦幻想' Magnolias俱乐部,印度古尔冈 由幻影画廊赞助 'Apparao Gallery' Chennai
2014
印度勒克瑙地区中心LALIT KALA AKADEMI '法定警告'
国际项目
2019
第八五届北京国际艺术双年展 中国北京
'Commemorative Envelopes', Dreamland Art Center, Four Seasons Hotel, Beijing
参展第九届国际展览会  中国上海 '上海艺术收藏博物馆'
'ART TODAY-Here's The Answer', Hangzhou Creative Design Center, Hangzhou
'INTER-SPACE DIALOGUE, 'BERNINI ART SPACE', 中国杭州
2018
参展第八届国际展览会  中国上海 '上海艺术收藏博物馆'
'hui de fang shi' Exhibition of Studio 5, 中国美术学院, 'BERNINI ART SPACE', 中国杭州
2015
Group Show, 'ARTISTI O GLADIATORI?' STADIO DI DOMIZIANO, Rome
第22届国际文艺幽默讽刺双年展 加博罗沃 保加利亚
2014
群展"最前沿40" 印度海洋画廊 韩国首尔 "艺术507"
2012
第五届北京国际艺术双年展 中国北京
驻地艺术家
2016
1月1日-2月29日, 118空间 孟买
2015
9月25日-10月24日, ANANDGRAM SANSKRITI KENDRA 新德里 由艺术 4 ALL资助
获奖
2016
中央区域勒克瑙城市奖  Prafulla Dhanukar艺术基金会 孟买
2009
第23届全印度艺术大赛一等奖  SCZCC 印度
2008
'价值证书奖'第22届全印度艺术竞赛&展览 , SCZCC, 那格浦尔
艺术博览会
2013
联合艺术博览会 新德里
奖学金
2013
国家LALIT KALA ACADEMY奖学金 勒克瑙
2010
LALIT KALA AKADEMI的研究奖 印度新德里
COLLABORATIVE PROJECT
2019
'Commemorative Covers Travel Thousands of Miles, Remain True to Our Original Aspiration', CFPD, organized by Zhongyulidu Culture Co., Ltd., Beijing
2015
'THE CATALYST' at Book Fare, Moti Mahal Lawns, Lucknow, supported by Kala Srot Art Gallery,
2014
'PHOTO SYNTHESIS' at LALIT KALA AKADEMI, R.C., Lucknow, supported by LALIT KALA AKADEMI, R.C., Lucknow
组展(印度)
2018
'Akhabaar Aakaar', KALA SROT ART GALLERY, Lucknow
2016
'ART 35', Young Affordable Art, The Great Eastern Home, Mumbai
'OPEN STUDIO DAY', SPACE 118, Mumbai
2015
'SANSKRITI KENDRA ART GALLERY', ANANDGRAM, New Delhi Org. by ARTS 4 ALL
2014
AHIWASI ART GALLERY, BHU Campus, Varanasi
'NAVAKA' SGPGIMS Campus, Lucknow
2013
'PAUSE n PLAY' JEHANGIR ART GALLERY, Mumbai
'PAUSE n PLAY' Preview Show, LALIT KALA AKADEMI, R.C., Lucknow
'PARALLEL REALITIES' DEVLALIKAR ART GALLERY, Indore, M.P.
ART MART, KHAJURAHO INTERNATIONAL FESTIVAL, Khajuraho, M.P.
2012
'THE SCHOLAR SHOW' LALIT KALA AKADEMI, REGIONAL CENTRE, Lucknow
2011
'ART SPOTING II' ART POSITIVE GALLERY, New Delhi
2010
'ABHIVYAKTI VIII' STATE LALIT KALA AKADEMY, Lucknow
2008
'THE EXCERPTS' INDIAN ACADEMY OF FINE ARTS, Amritsar, Punjab
CAMPS / WORKSHOPS & OTHER ACTIVITIES
2017
'GESSO WORKSHOP', China Academy of Art, Hangzhou
2014
'INSTALLATION WORKSHOP', LALIT KALA AKADEMI, R.C., Lucknow
Painting Camp, KALA SROT ART GALLERY, Lucknow
2006
Painting Workshop at 'Biotech Park, Bio Technology City', Lucknow
'Abhivyakti' Creative Workshop on E-Waste org. by 'Prithivi Innovation', IIM, Lucknow
2004
'Puppet Workshop' org. by Lalit Kala Shiksha Sansthan, Lucknow
N.S.S. Camp
2003
N.S.S. Camp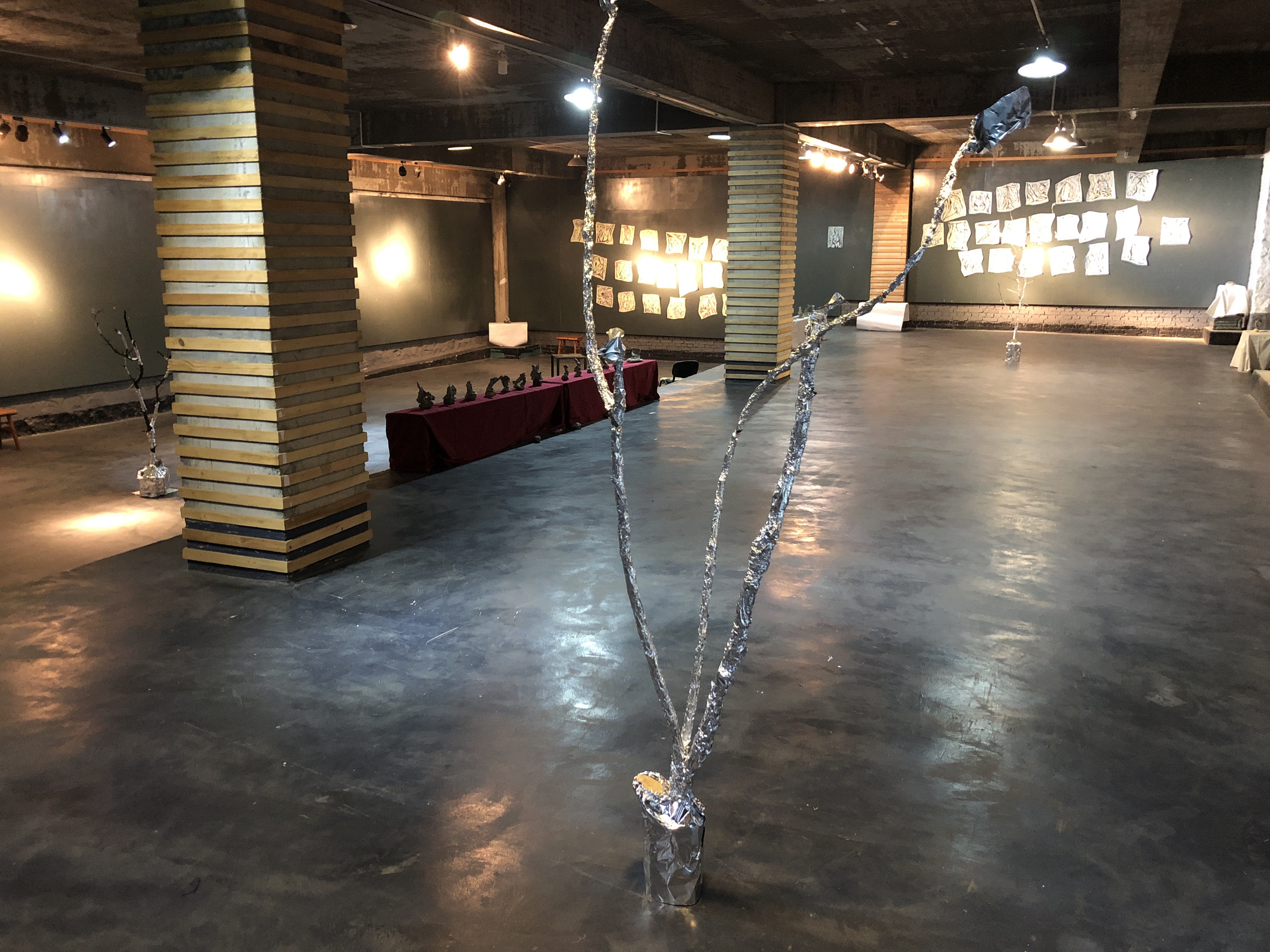 About the museum
Shangyuan Art Museum is a modern art museum in Beijing, China. A private museum, it was established in 2007. It hosts an International Residency
Exploring the work of artist Hilma af Klint, with all the mystical, occult, metaphysical that she has been tapping into, indirectly going deep into the art that would have later be defined as abstract art. She innovated without even being aware of it and was was the world, unaware.
This is a story, a personal impression rather, of a great artist Petar Lubarda with his roots in Montenegro, with trunk in former Yugoslavia's Belgrade and Paris and branches, leaves, fruits and flowers in the World. He reaches deep into the history and yet gives us something completely new, a way to look through the prism of the stone that becomes a bone that becomes a structure that becomes an architecture. An architecture of the cosmic journey that we all take on this planet becoming one with the stone that made us and at the same time we become appalled from time to time when we notice the glimpses of the core. We live in the world so dominated by the ruthless ruler called beauty that often times we live in the superficial layer that the underlying truth frightens us. We have learnt to ignore the depth to such a degree that we follow the footpath of positive psychology, from one landmark to another, to avoid abyss at any price, the abyss of the unknown that the subconscious mind knows.
Louise Bourgeois graced this planet with her presence spanning almost a century, during which she created a wide range of artistic pieces in different languages of materials and expression. She is one of the artists of 20th century who always came back to the psychology, self observation, getting back to the core, finding essence in the childhood memories and events.